---
How to Host a Clothing Swap Party
AUTHOR: NICOLE ROBERTSON / CATEGORY: CLOTHING SWAP
---
Clothing Swap Rule #1: Make sure there are

multiple people of similar sizes in attendance.
Clothing swap parties are a fun way to update your wardrobe without buying brand new clothes. You'll save money on fashion, purge items you no longer wear, and help keep wearable clothing out of landfills. Clothing swaps are also a great way to build community and have a lot of fun. Hosting a clothing swap party can also be a lot of work, so we are sharing our tips to help you have a successful swap!
The Guest List
When you're creating your guest list, consider the different sizes and styles of your guests. We highly recommend making sure there are multiple people of similar sizes in attendance so you don't have guests leaving empty-handed. You can also swap fashion accessories such as jewelry, handbags, hats, belts, and shoes to make sure there's something for everyone. One of the best parts of swapping your clothes is trying out new styles, but also keep in mind the general fashion sense of the crowd. If most of the attendees are preppy, inviting one rocker friend might not make sense, so invite more rockers!
The Venue
Most people host swap parties at their homes, but you can absolutely be creative if you have access to other spaces. We've done clothing swap events at art galleries, co-working spaces, office buildings, and outdoor gardens. Keep in mind the supplies you will need for your event before choosing your venue—if you're using a blank space, you'll need to bring a lot of supplies and furniture to set up your event. You'll also need to make sure there's an area for trying on clothes as well as restrooms. Please follow the recommended COVID safety guidelines in your area.
The Invitation
You can send out a group text, a simple email, a social media announcement, or you can get a little fancy (we like Paperless Post for digital invitations)—it's totally up to you! However you plan on spreading the word, aside from the basics (date, time, location) make sure your invite has the RULES OF THE SWAP.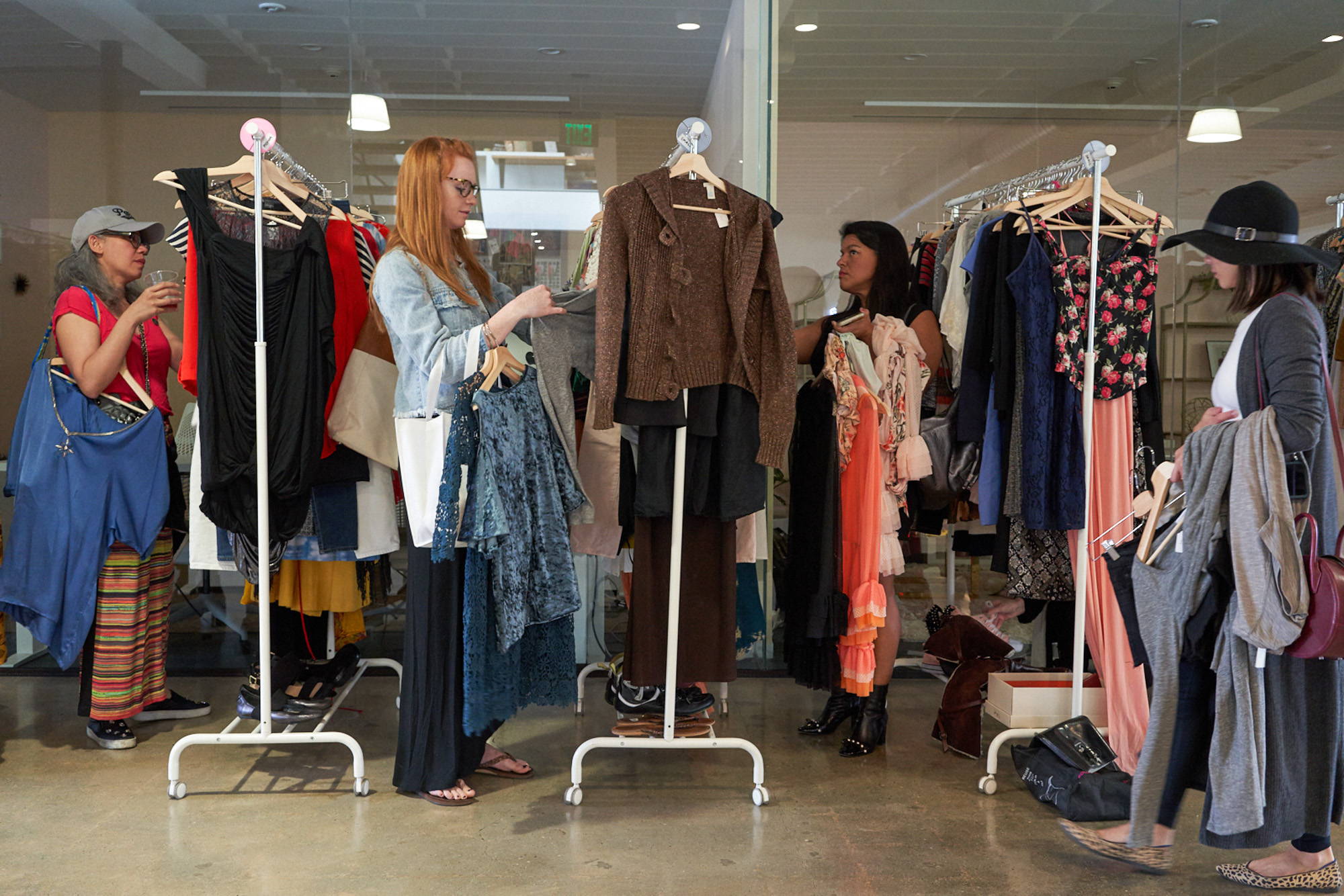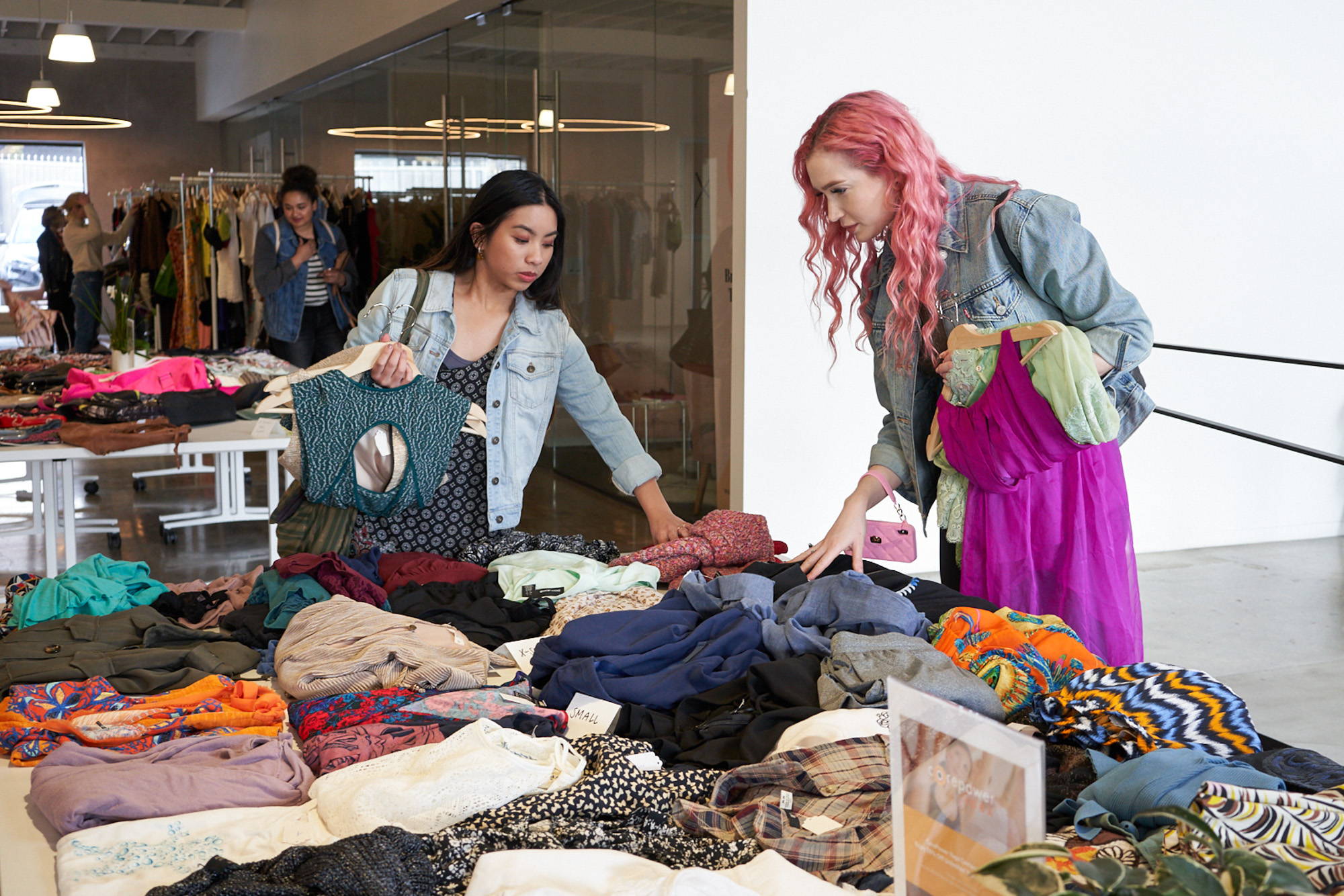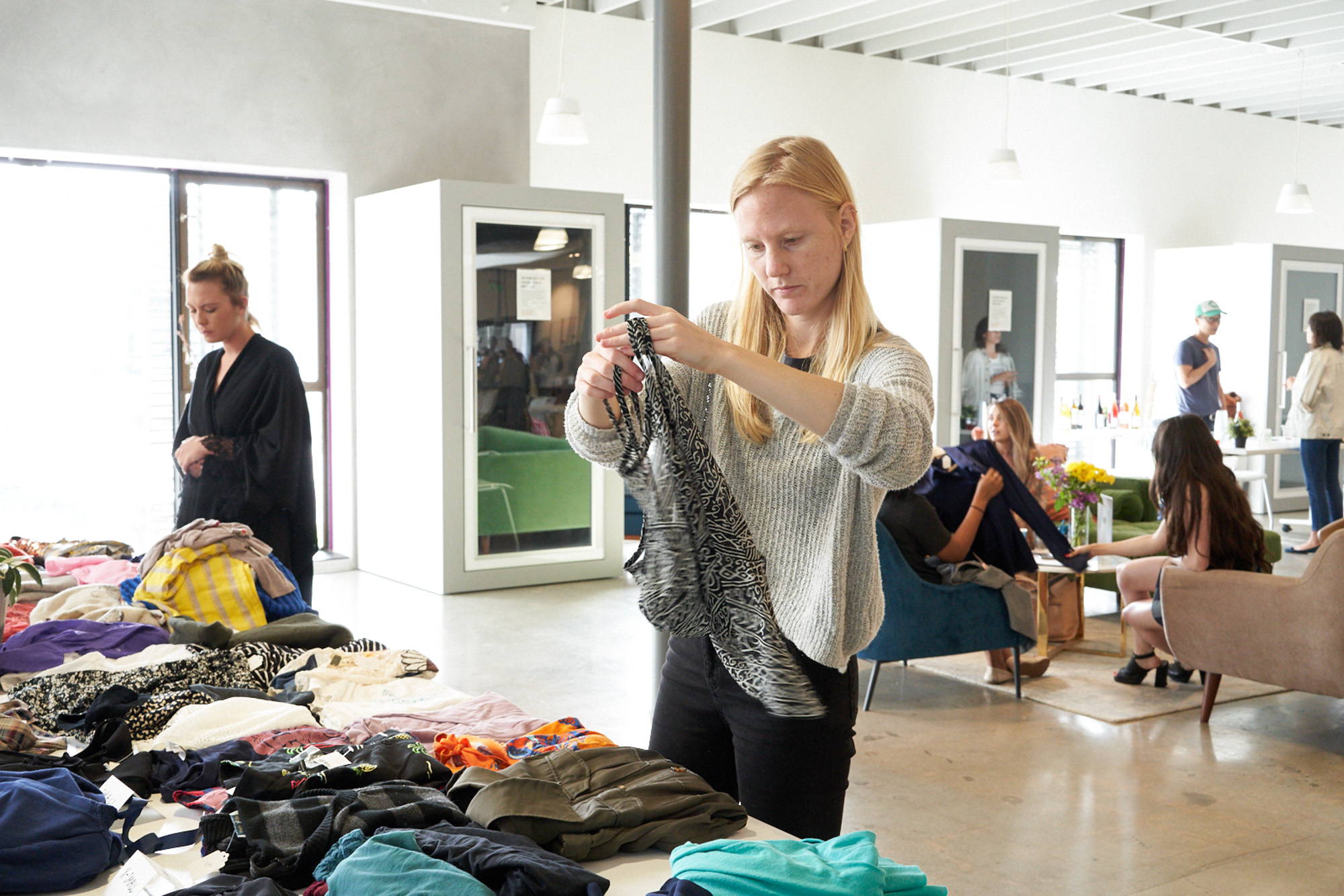 Clothing racks are a nice way to display the clothes and make it easy to swap the racks. Tables are great for displaying accessories and can also work for clothes instead of racks.
Setting the rules for your swap in advance will help everything go smoothly on the day of the event. Here are some of the most important things to consider.
Will it be a one-to-one swap? Most swaps operate this way to make it easy. Bring an item, take an item. You can hand out tickets or tokens to help keep track, or if it's a close group of family and friends, you can just use the honor system. (To solve this conundrum, we created SwapCoin™, an alternative currency that keeps it fair and makes sure everyone gets equal value out of the swap.)


Are all brand tiers allowed? If so, you might want to consider having two categories of clothes (e.g., mainstream brands and designer/luxury brands) and have separate tickets or tokens to differentiate.


How many items can people bring? Depending on the size of your event, you may want to limit it to ~10 items per person or you might have a few guests who show up with a mountain of clothes. If you're not personally checking the condition of each garment and everyone just puts out their own clothes, you could easily have a higher limit. That being said, from our experience, people often overlook imperfections in their own garments, so it might be a good idea to have a little quality control. If you're going to check garments for condition, consider pre-collecting so you have time to process everything.


What type of items will be swapped? Make it super clear to your guests so they know what to bring. Any gender or women's only? Adults only or kids too? What type of accessories are allowed?



Clothing condition requirements should be clear. These are ours: Clothing must be freshly laundered and free from stains, tears/rips/holes, odors, pilling, fading, stretching, and missing/broken parts.
Clothing condition requirements should be clear.
If you're hosting the clothing swap at your home, you probably already have a lot of the supplies you'll need to execute the event. Clothing racks are a nice way to display the clothes and make it easy to swap the racks. If you're using racks, don't forget to make sure you have enough hangers. Tables are nice for displaying accessories and can also work for clothes instead of racks. Make sure to have full-length mirrors too.
We always like to sort the clothes by size at our events. You can have separate racks or tables for each size, or you can use tags to note and separate the sizes on a shared rack.
To make your event as sustainable as possible, try not to buy a lot of new stuff. We love our local Buy Nothing Project group—our neighbors lend each other party supplies such as folding tables, chairs, and clothing racks all the time.
Think before you donate! Less than 20% of thrift shop donations get resold.
The Mood
What's a party without good music and refreshments? Make sure to let your guests know if it's a BYO situation or if you'll be providing drinks and snacks. Pro tip: Avoid messy foods to help keep the fashion clean!
The Leftovers
A lot of people, with the best of intentions, bag up what's left after a swap party and take it all to their local thrift shop. But did you know that less than 20% of thrift shop donations get resold? For clothes that are in really good condition, you can swap them with us online—we accept all brands, give you equal value for your garments with our alt currency SwapCoin, and we do all the work of checking the garments for condition, steaming, photographing, listing them on our website, picking and packing the orders, etc... You can also pass along to friends or neighbors, or try to sell them yourself online.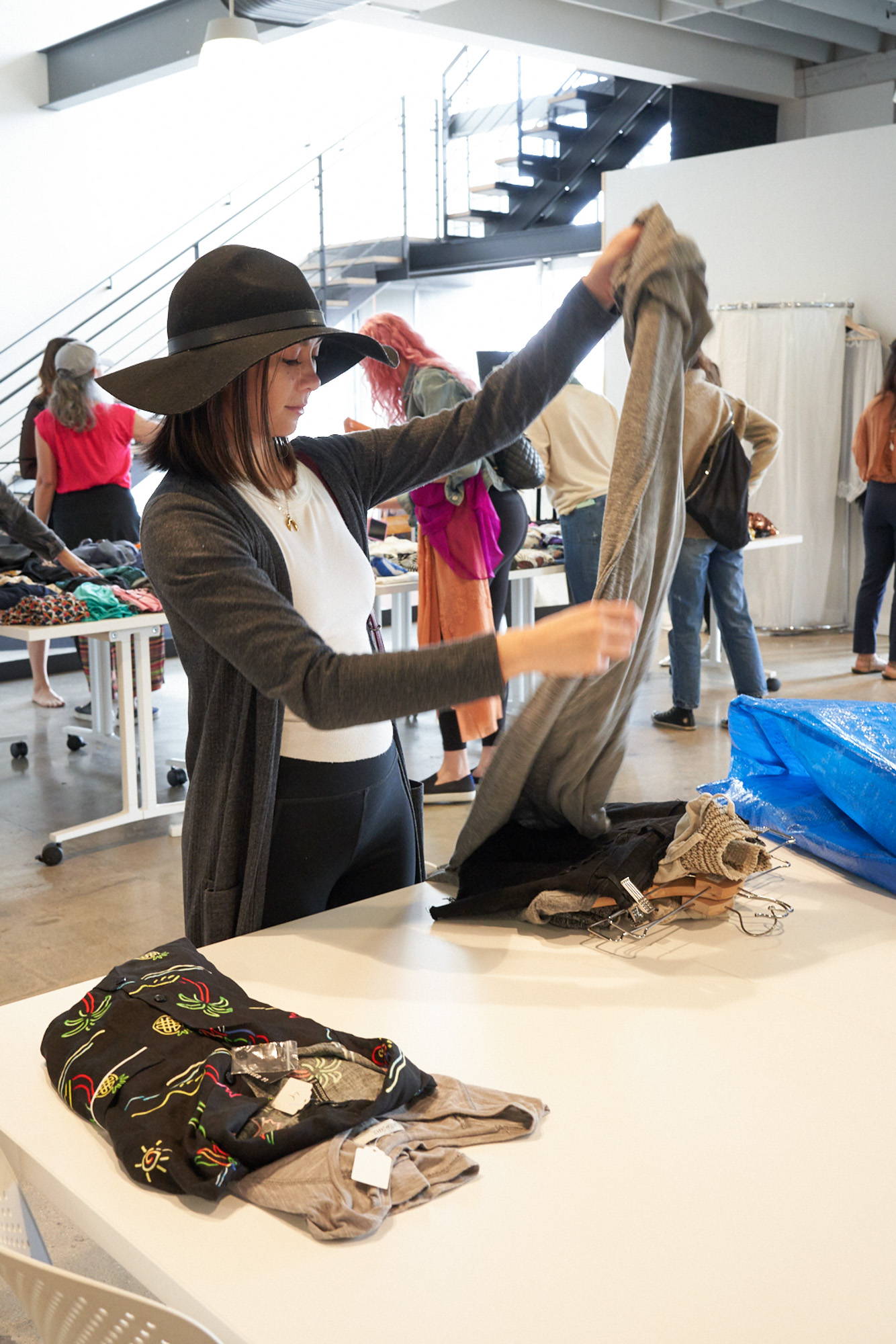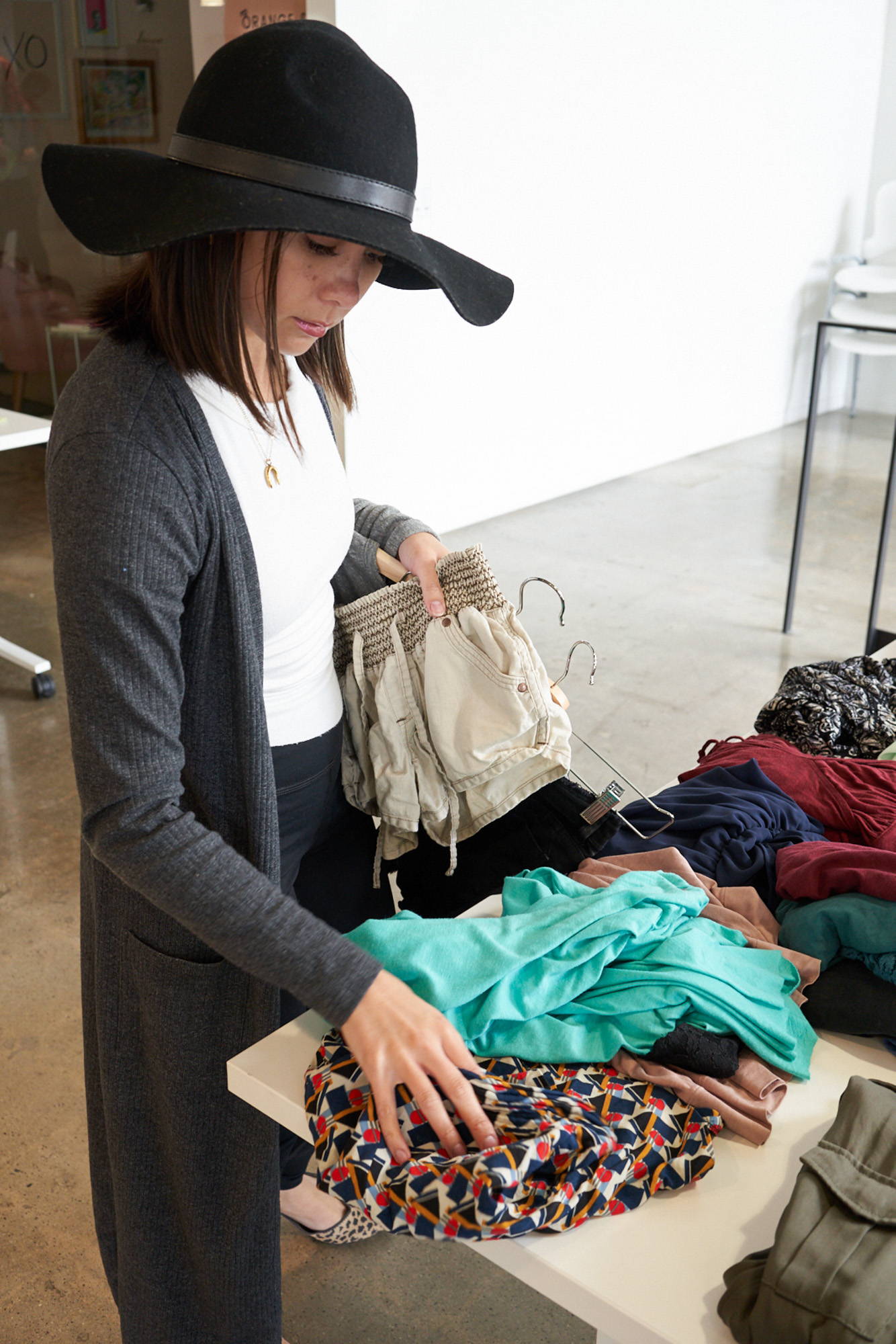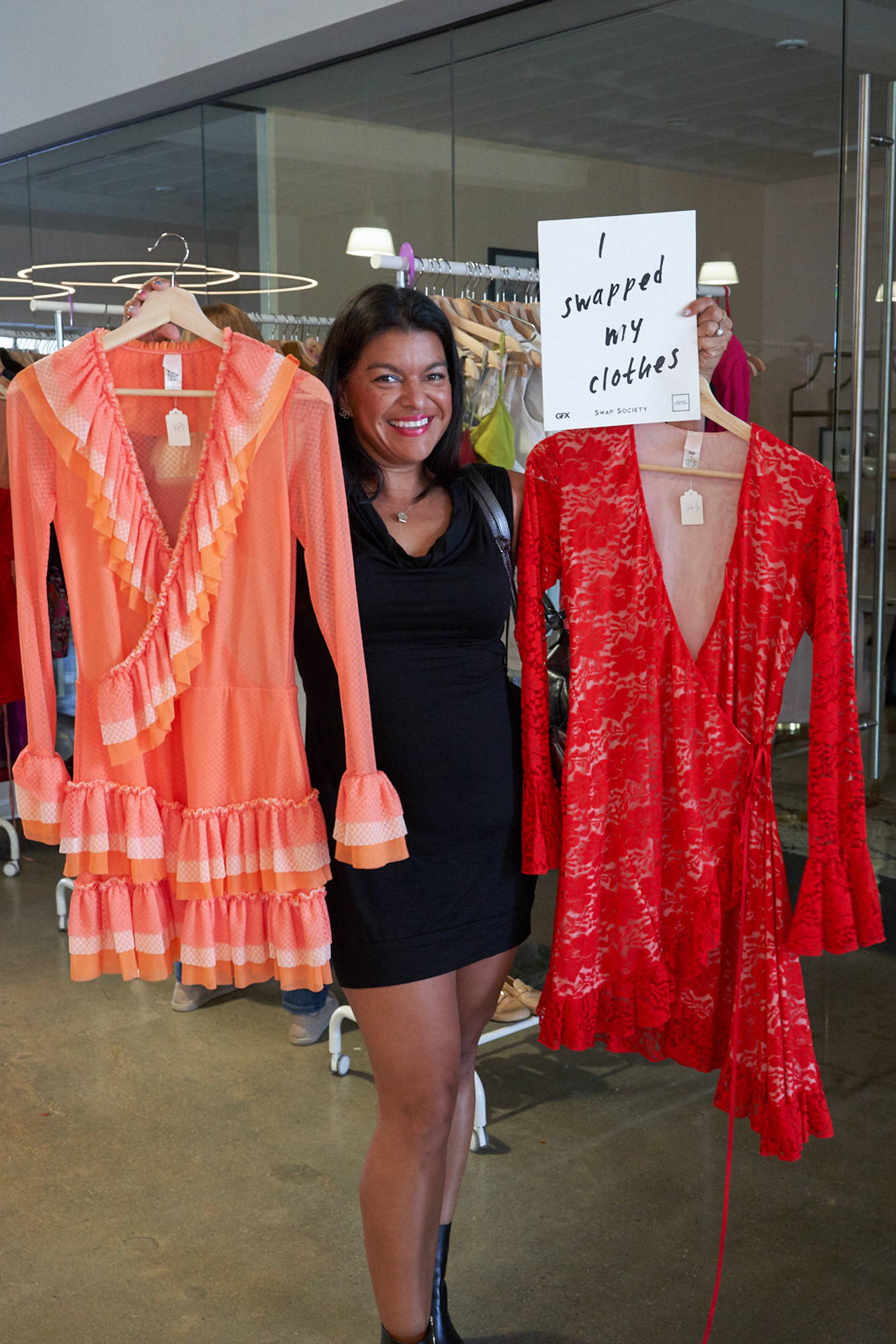 Set the mood with a fun venue, good music, and refreshments.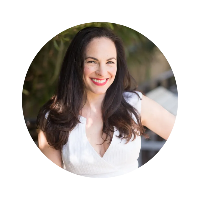 Nicole Robertson is a sustainable fashion advocate and the founder of Swap Society, an online clothing swap for women and kids that makes it easy and affordable for members to update their wardrobes sustainably. Nicole is also an accomplished musician and retired dancer who lives in Los Angeles with her husband and their two sons.