"I was able to swap my current clothing at Swap Society for high-quality, fashionable maternity wear."
- Caitlin Roberts, Tidying Consultant and Expecting Mother
As a tidying consultant and expecting mother, one of the biggest challenges women face during their pregnancy is having the necessary clothing to support them in their journey. That challenge is often combined with our homes becoming overfilled with garments and excess clothing to support us all nine months of the way. Businesses like Swap Society help women like myself, "swap" pieces from our current wardrobe for new-like pieces including maternity wear. As a way to ensure the tidiness of my current closet, I was able to swap my current clothing at Swap Society for high-quality, fashionable maternity wear. Keeping just few of my absolute favorite, classic pieces, I was able to create a brand new wardrobe for myself while saving graciously.
Even during a time like pregnancy, it is important to only keep belongings that truly matter to you in your home. The space that we all live in is something we take for granted. My mantra in life and in my business has always been, find peace by creating space. This mantra truly starts with your closet. By eliminating the things that do not serve a direct purpose, we can create an organized and decluttered home for calmness to occur. For example, by eliminating the excess clothing in our closets by swapping, we are creating extra space in our homes without needing to rely on a larger space or home to store essentials.
Even during post-pregnancy, women are still challenged with maintaining their closets. Most women discover that their current clothing no longer fits their newly found post-pregnancy bodies, and splurge on a new wardrobe in addition to everything else they own. Soon to be in this situation myself, I take comfort in knowing that Swap Society can help me rediscover my "new look" post-pregnancy. Whether it be rediscovering my love for comfy sweaters and dresses or trying something new, I can swap my maternity wardrobe to create space for a brand new one. I look forward to rediscovering my love for fashion, and feeling confident and beautiful in my new body.
I appreciate knowing that I am being kind to the environment by swapping my clothing. Instead of trashing my old garments, I can contribute it to a greater cause of supporting other like-minded women in their low-cost fashion finds. Home organization and decluttering through swapping is an added benefit of the entire process. Through Swap Society I can save money by not wasting on fast fashion items, and instead come home to a bag of good quality finds that will last long-term. Swap Society offers career-driven business women like myself, cost effective and versatile clothing to support our lives, but also a guilt free approach to online shopping!
ABOUT THE AUTHOR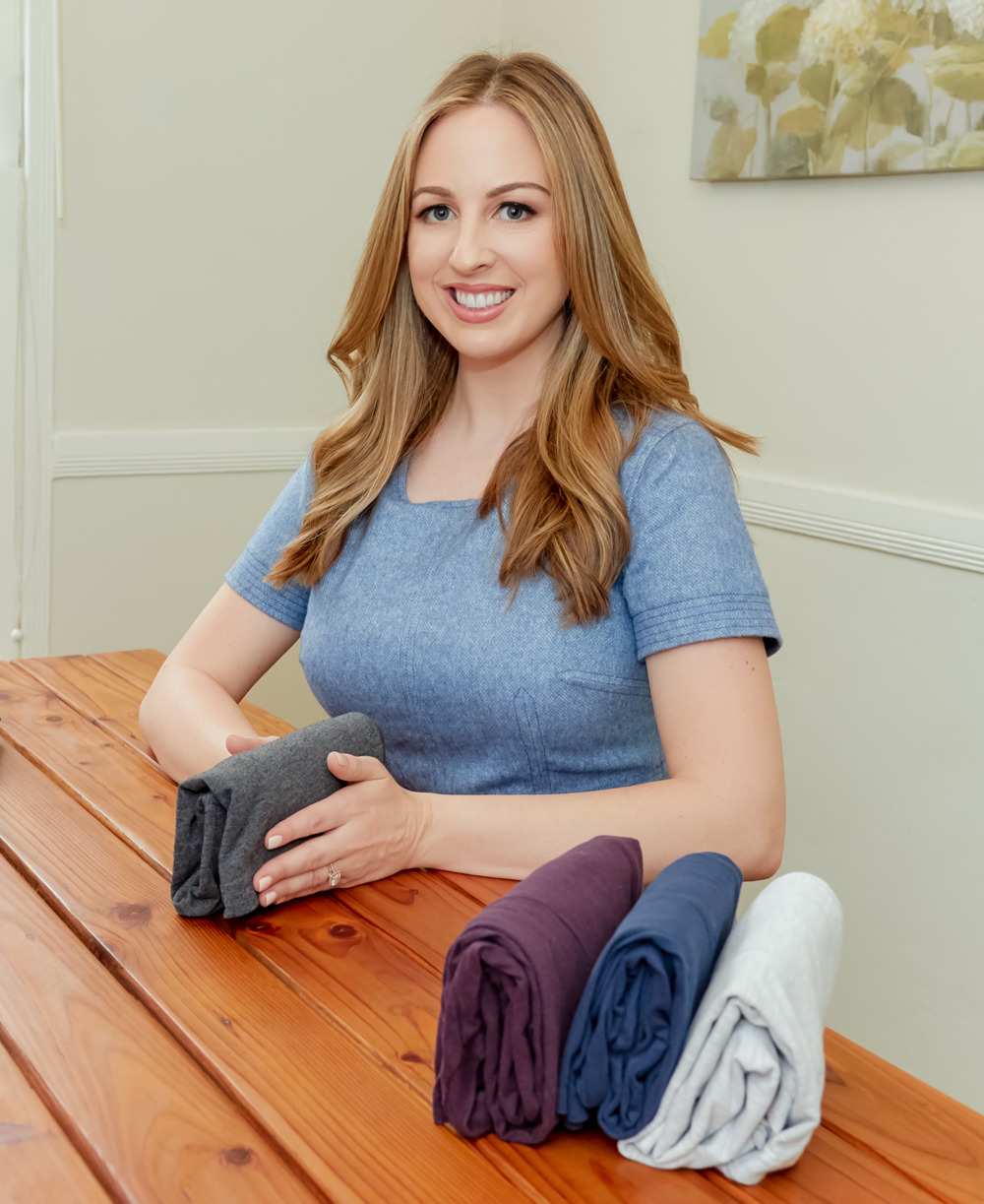 CAITLIN ROBERTS 
Caitlin Roberts is a Tidying & Clutter Consultant who founded Minimize With Purpose in 2017. Born and raised in Southern California, Caitlin received a B.A. in Mass Communications from UC Berkeley and a M.A. in Organizational Leadership from Woodbury University. Caitlin's passions for creativity, organization, and home decor were the forces that inspired her to study the teachings Marie "KonMari" Kondo and the 'Life Changing Magic of Tidying Up'.
Caitlin is the 1st Certified KonMari Consultant and specialist in Southern California. She runs her business from the greater Los Angeles area.