---
Tales from a Buy Nothing Group
---
AUTHOR: NICOLE ROBERTSON / CATEGORY: GIFT ECONOMY
In a time of widespread social disconnection, people in Buy Nothing Groups are coming together and improving the collective well-being of their neighborhoods.
People throw perfectly good, amazing, functional things in the trash all the time, and I am often compelled to save them from an eternity in a landfill. So when I heard about the Buy Nothing Project, I immediately logged into my Facebook account, found my local Buy Nothing Group, and signed up. I loved the concept of a gifting economy that encouraged people to consume less and waste less. As a saver of things, who was also becoming more minimalist with each passing day, I had many items to give away too.
Giving things freely to neighbors instead of throwing them in the trash, and receiving gifted items instead of shopping, is the cultural shift the world needs right now. Overconsumption and excessive waste are trashing the planet. Society needs to move toward sustainable living and a "waste not, want not" mindset. Over the years, I have re-homed many items that my family and I no longer needed, and I have gotten many new-to-me things. And although I was drawn to the group for its environmental benefits, it turns out that for me, the best part of being in a Buy Nothing Group is the sense of connection I now have with people in my community.

There are plenty of articles out there that explain the history of the Buy Nothing Project and how big it has gotten, how Buy Nothing Groups work, and that share the quirky "gives" and "asks." There's an Instagram account called @best_of_buy_nothing that features bizarre and often hilarious posts from various groups around the world. It's all great info, but that's not what this article is about. In my local group, I have experienced and witnessed a special sort of magic, which is what I want to highlight in this blog. I interviewed several neighbors who shared some of the many kindnesses exchanged, both big and small. In a time of widespread social disconnection, people in Buy Nothing Groups are coming together and improving the collective well-being of their neighborhoods.
Beyond Giving & Receiving Stuff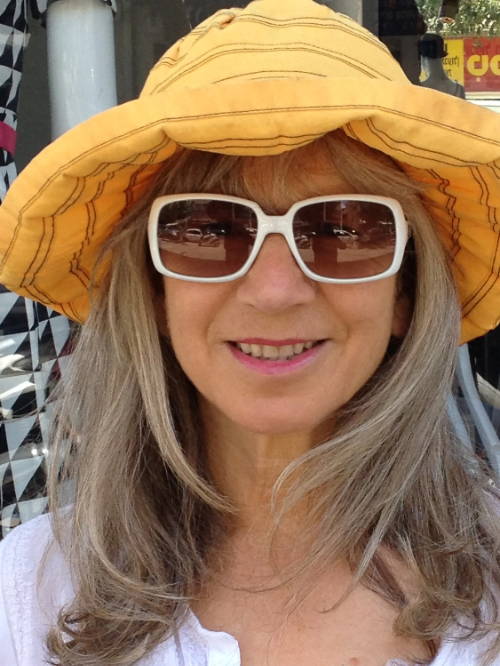 "My faith in our future has been renewed. Both because of people's concern about the welfare of our planet (keeping stuff out of landfills) and more importantly the gentle way that members reach out to each other and show concern way beyond the simple trading of goods." —Jeanne Kuntz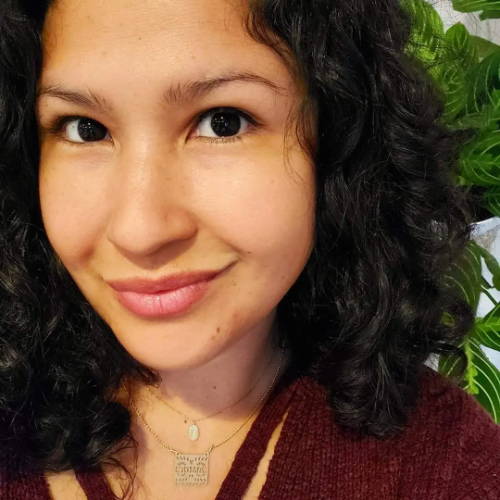 "At first, I was delighted I found a clan who wished to practice this sustainable, my-trash-is-your-treasure mindset. It became so much more. These neighbors brought some much-needed light to my world. We support each other. We remind one another that even though the world is full of darkness at the moment, we can still shine bright together." —Paola Cervantes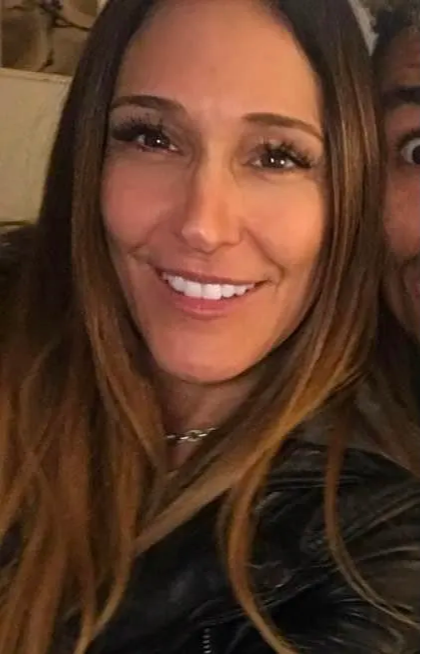 "I have regained trust in society and I feel part of an "it takes a village" now. I always idealized living on a commune or in a kibbutz. Now I can "be a part of" and "work together" yet still retain healthy individual living space. Also, I feel so great about a smaller carbon footprint! The greener the better!" —Talia Botone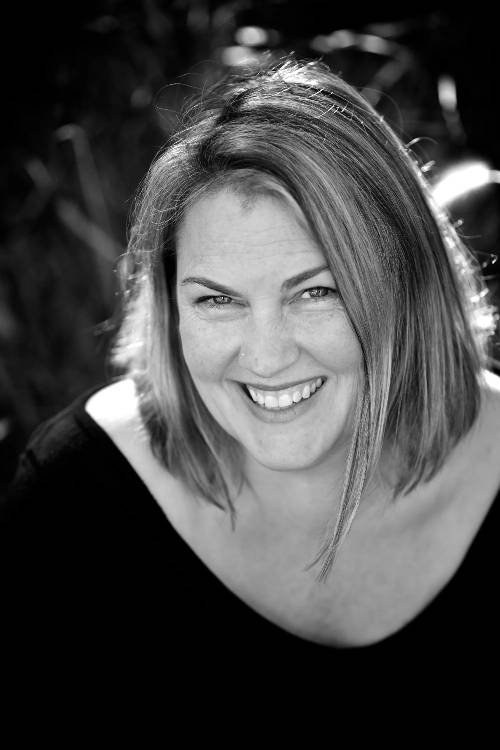 "When I broke my ankle I was able to borrow a knee scooter, find a mother's helper, and received so much help! I love following the stories of the woman who offers up 2 hours in her heated pool, the woman who offers up the amazing bread, the toys that get passed around/re-shared, and the narrative thread apparent in some of the asks/gives. So magical. The mother's helper I found on the group has become a close family friend. I learned my neighbor was pregnant when she put out an "ask" for maternity clothes. I've made pickups and drop-offs for neighbors who can't do it themselves. The people are amazing, generous, insightful, and kind." —Susan O'Neal
"I've made so many wonderful new friends. I passed out tons of divided iris and daisy plants to people gardening, I was able to both receive and give milkweed to support the local efforts to save monarch butterflies and pollinators, and connect with fellow mosaic artists who are always looking for supplies." —Tracey
"Met a friend of a friend whom I now take walks with. Accidentally have gotten two temp jobs and have become friends with my 'bosses.'" —Christine
"Being a part of this group has honestly been one of the most rewarding parts of our lives."
Changing the Way We Consume & Our Relationship with Material Goods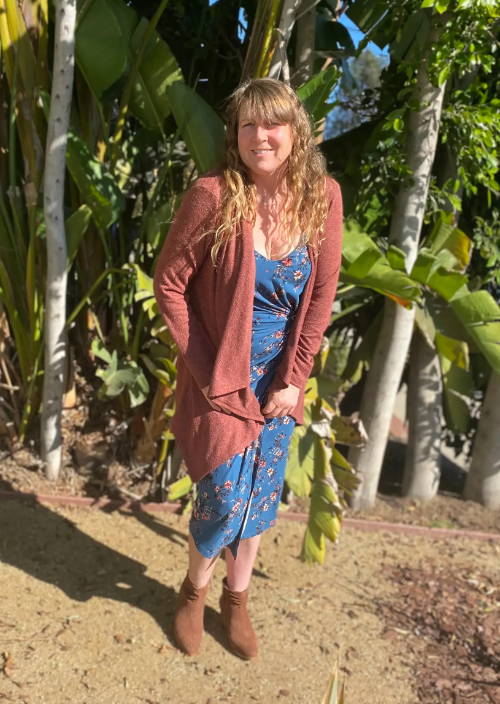 "I love to shop—now I love to give, reuse, and recycle. I am not able to throw anything away that may possibly have some use for others. I am also modeling sharing at a community level for my daughter." —Sabrina Youmans
"I have become more aware of waste and have become a staunch re-user. I've always enjoyed repurposing items and refurbishing them but now enjoy sharing that goal with neighbors. I would much rather find an item I need than purchase it now!" —Elle
"If I need something I go to the group first. It's amazing what people are getting rid of. If someone has what I need it saves me money and time from having to find it and purchase it somewhere and I find releasing things I don't need so much easier as I know it's going to someone who really wants it and will put it to use." —Tracey
"Buy Nothing is awesome!!! I am excited to have a "market" for the items I cherish but no longer need. Also, I now have a group of very responsive neighbors who can sometimes provide what I need quickly and easily. So instead of relying on one or two local friends for the proverbial "cup of sugar", I can often get what I need without a trip to the market." Jeanne Kuntz
"When visiting my mom I always say 'don't throw that out! I'll give it!'" —Christine
"Stuff that I don't need and love can weigh my life down. The group has given me a place to trust items I love but don't need will be cared for and or used. The group gives me the space to try things I think I need and love and if it doesn't work out I can give it right back to the group. Sometimes I see something that I didn't even know would change my life for the better, like a weekly pill case planner for morning and evening meds for my old doggie. I've never had to administer or take meds on such a regular basis with different am and pm doses, so this has been a time saver and helps me keep track." —Talia Botone
"It's easier to let go of items knowing someone else will love them." —Paola Cervantes
"I love this group!!! I am so happy we can help neighbors with items that would otherwise end up in a landfill site way before they needed to be! I love knowing my belongings will get another chance at being useful again when they are no longer needed at my home and have a lot of life left in them." —Angela
"I'm much more conscious of trying to get things to new homes rather than landfills." —Eli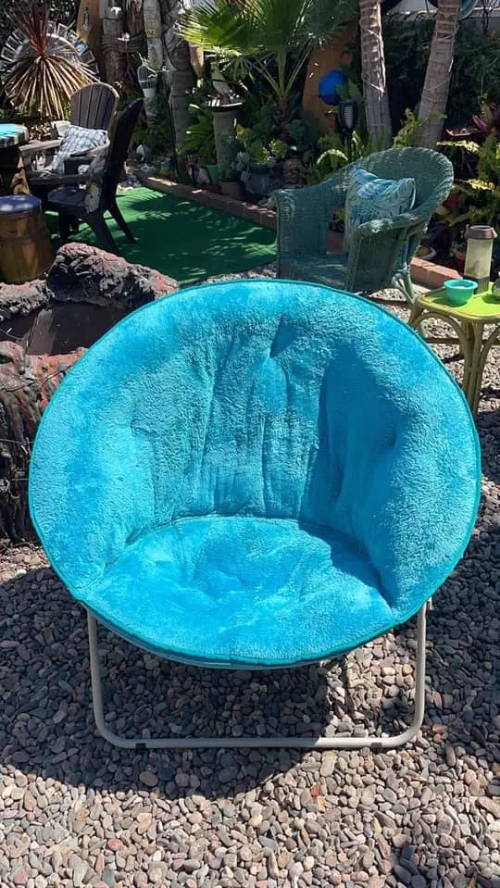 "We've always been aware of the gross amount of pressure that society puts on consumption. It's wonderful to know the things you're gifting are being put to good use, and it's delightful to receive something you need from someone who has extra. The chair I posted came to us for a couple of weeks for a teenager's viewing party in the backyard and was gifted back to the group, given to the woman who offers up her pool. I've given away some things that might otherwise end up in a landfill, I've received experiences, things, fresh bread...and made so many amazing neighborhood connections." —Susan O'Neal
"It's easier to let go of items knowing someone else will love them."
Connection During a Time of Social Distancing
During the early days of the COVID-19 pandemic, when porch pickups dominated to keep everyone safe, connections were still made as people in my neighborhood supported one another. Member Andrea said, "I have made connections in the community, brought some wonderful items into my home, and gave away tens of things we no longer use. During the pandemic, some of these Buy Nothing communications and waving through the window at members were the only real connections we had to people." She also added, "I eagerly look at Buy Nothing regularly to see if I have a way to help people out. Being a part of this group has honestly been one of the most rewarding parts of our lives."
When asked how being in a Buy Nothing Group has impacted her life, member Tracey said, "It's been transformative. It helped sustain a nonprofit that I work for during the pandemic by supplying art supplies and materials for an adult special-needs class that could no longer meet in person. I truly believe it saved some lives. It also allowed me to pass on things I was cleaning from my house to individuals directly and I got to meet and know many neighbors I would not otherwise have had the opportunity to meet. It's so much more rewarding to give directly to someone who needs or wants something than just dumping it at a thrift store." Tracey also said, "I had two friends really struggling with food scarcity and homelessness during the pandemic. One of our BN members was getting loads of produce from a nearby garden and loaves of bread that didn't sell from a bakery. I was able to help support two people with that food who really needed it."
Nan Chorpash created a little mysterious magic of her own in the early days of the pandemic. "We had a yard sale planned for April 2020, boxes with items packed and ready to go. With COVID, we felt it was safer to just give the times away instead of having hundreds of strangers in the neighborhood for a yard sale, so we taped the boxes up, put them on our driveway, and let Buy Nothing Members each take a box without knowing what was inside of them... Lots of treasures gifted that day, it was crazy fun."
Another member added, "The group is tremendously helpful as a loaner-source, especially for health stuff or things that are needed urgently. For example, my husband was just diagnosed with COVID (the whole family acquired it from a returning college student), and he is fairly high risk even though he's vaccinated. It was suggested I use a pulse oximeter to measure his oxygen levels and it turns out this is tremendously helpful, vital information; it sets my mind at ease as a way of monitoring and having an action protocol. Just an invaluable resource. But who the heck is going to have this and to order off Amazon at the holidays is a four-day proposition; we're talking life/death in the next few hours need. I posted on BN and within moments two people had offered to loan one. If that's not amazing, awesome, worthy, and worthwhile I just don't know what is. It's not just one size that one's heart grows for this generosity and warmth, it's ten sizes; it's bursting-out-of-chest gratitude and crying and relief and ... pride. Associative pride for my community. There are, of course, truly, deeply, genuinely nice people about. Reaching them is not always easy. But this well-regulated group enables people's very best selves to shine out. It is astonishing to me."
As a mother of two small children, the Buy Nothing Group has been a wonderful way to keep the toy selection interesting without constantly buying new things. We pass on the toys and games that no longer get played with, and model the importance of giving and receiving with our kids. I think my boys are innately hoarders, and receiving items from neighbors has helped them feel more willing to let go and pass things on to other kids. As a family, we try to focus on experiences more than things, but the pandemic kept us at home more than usual, and having a variety of toys to play with made life much more enjoyable. Many of my neighbors have had similar experiences.
"One of my fave BN experiences was when a desperate mom asked if anyone had a duplo tiger as her toddler had left hers in a driveway and it was demolished by a car...I had one!! Made me so happy to know that little would sleep well with their fave toy." —Susan O'Neal
"I once asked for a croquet set for my daughter; I had a set as a child and I wanted to share the experience with her. Sure enough, a BNMV member said she had an old wooden set, maybe a prop from a film project that I could have! The group is like heart-wish fulfillment. Plus, kind smiles that make you want to give back even more. As a single mom, finances can be tough. Another single mom in our group always checks on me and brings bread and sweets for my daughter, and even feta cheese. When she has enough to share, she does. So much gratitude! We had a garage give! A BNMV friend brought over a sourdough starter! Another member would bake this wonderful bread daily & give a loaf away! Our children share toys, books, art supplies, clothes, games. Another member let me store boxes of stuff in her garage—she is the same BNMV neighbor who passed her daughter's Hello Kitty collection on to my daughter and gave us milkweed for my daughter's caterpillar transformation experience. We share our lives and we happily give, and give, and give. I did not realize how much I needed BNMV until I was at the center if its giving." —Sabrina Youmans
"I have become someone's daughter's (secret) magic fairy, exchanging notes and gifts and song and inspiration in her fairy garden vacation home." —Talia Botone
"I met a woman recently who, like me, is drawn to esoteric healing practices and groups that try to channel Universal Love to our fragile planet through group meditation. We both feel that little synchronicities indicate when we are on the right track. After about 15 minutes of conversation, we exchanged full names and realized that I had brought art supplies for children to her, via Buy Nothing!" —Jeanne Kuntz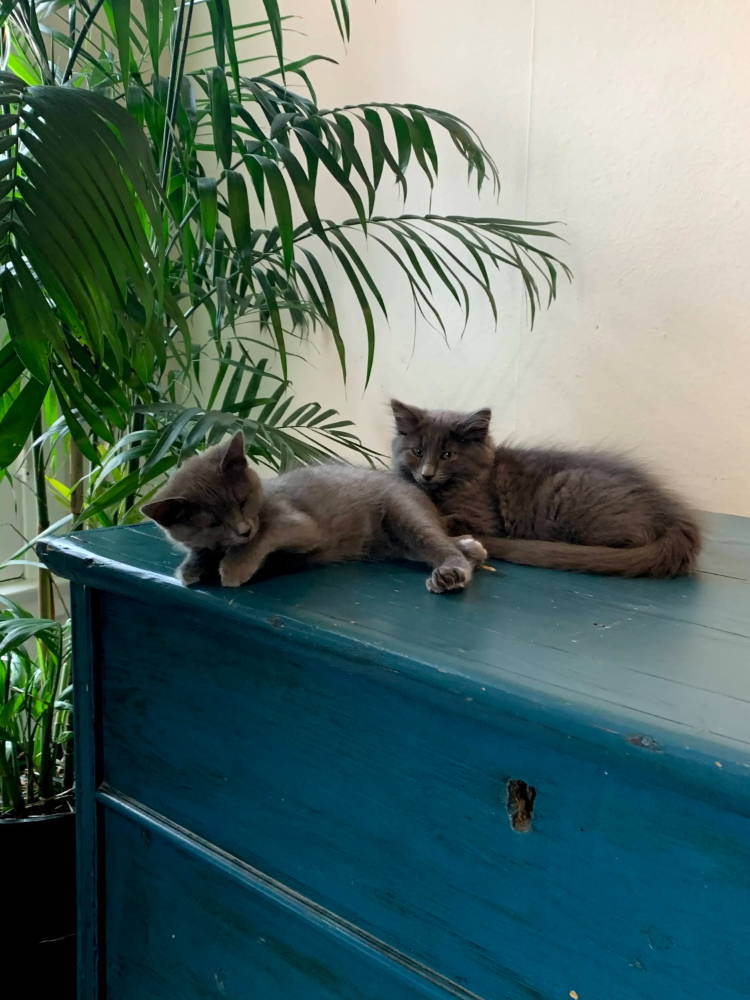 My younger son really wanted a kitten, so I posted an "ask" in the group in case anyone knew of kittens that needed adopting. Someone connected us with their friend who rescues cats. We adopted two gorgeous kitties who we named Gigi and Lulu and we are completely in love with them. My sister-in-law adopted kittens through our group too!

My next favorite gift from the group is a vintage Philippe Starck mahogany dining tabletop. The Buy Nothing post didn't even have a photo, but I am a fan of Starck's work so I quickly threw my name in the hat. We were the lucky recipients and found new legs for the table. It's a gorgeous piece and we plan to keep it forever. We passed on our other table to the group and completed the giving circle.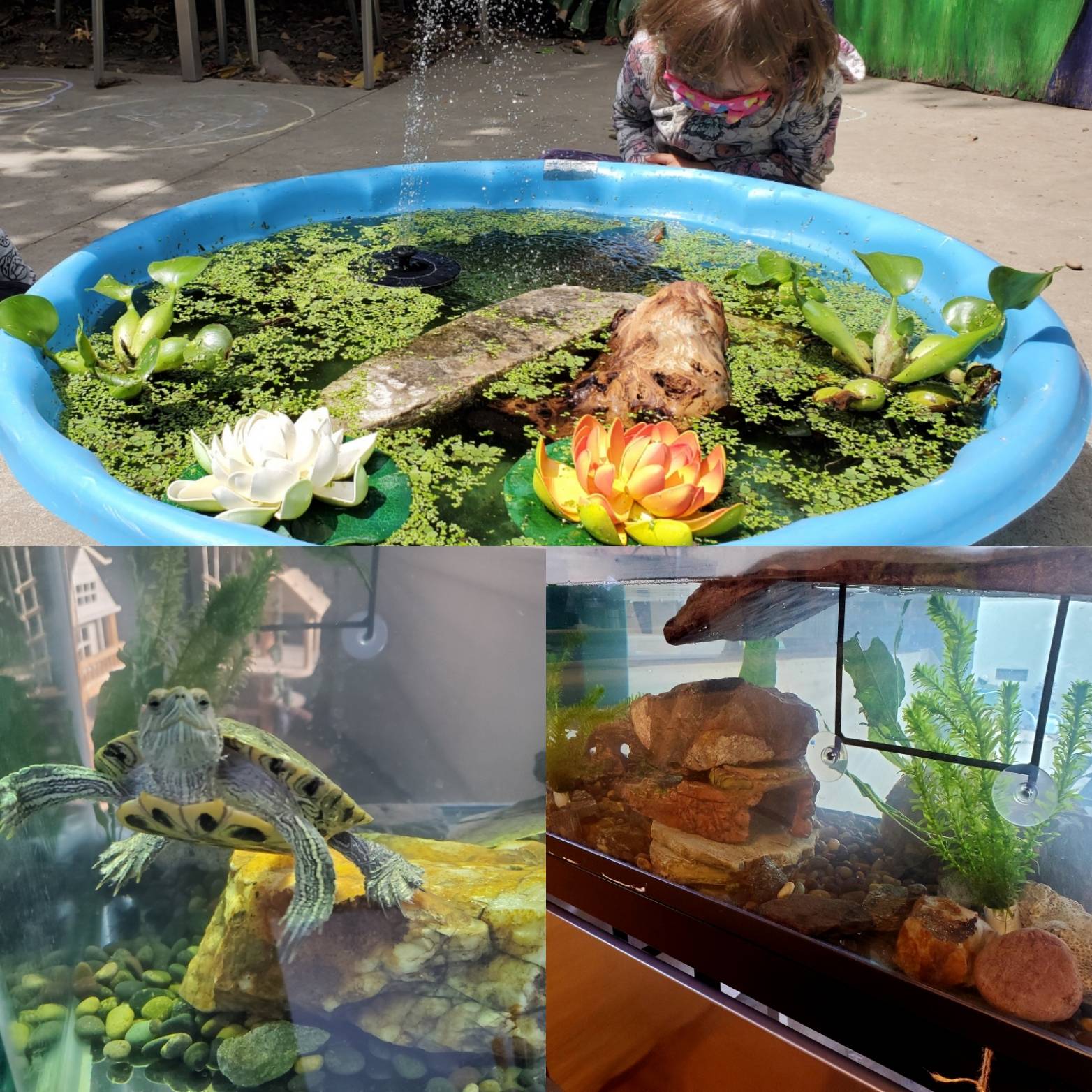 "It started with a 60-gallon turtle tank to help rehabilitate a friend's turtle while she went out of town. We loved having one so much, he let us keep the tank (it was intended to be a borrow) and we connected through a different member in the group who helped us adopt a turtle in need of a forever home. Later we made him an outdoor basking area with a kiddie pool also acquired here. We gained a family member through this group." —Paola Cervantes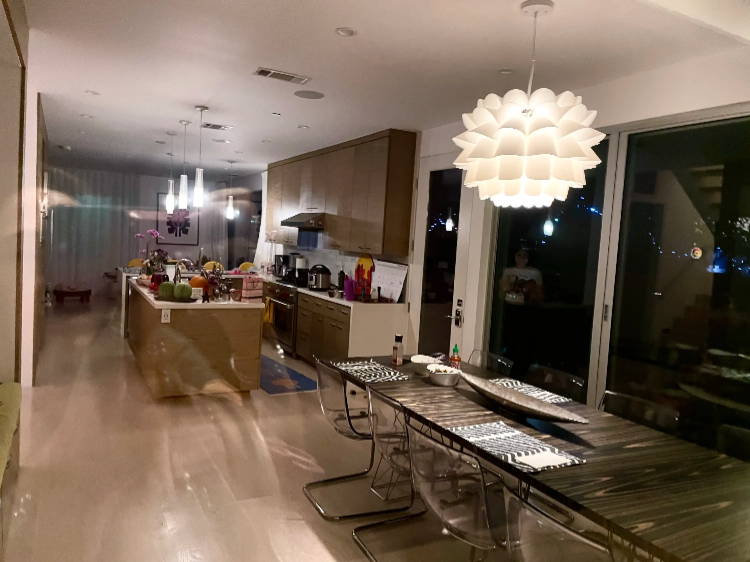 "I had picked up a mid-century soft lotus chandelier that needed to be dusted off but I really wanted the sparkly crystal new one in the box that a neighbor snagged before I got to the curb alert. A day later the neighbor that picked up the new one said there were two and I could have one. I spent a couple of hours assembling it only to find that the attachment was too small for my ceiling mount. My handyman was going to switch the mounts and then held up both and I ended up loving the soft lotus flower chandelier more! When I posted the sparkly crystal chandelier all assembled, the neighbor that posted her curb alert of chandeliers asked if it weren't too awkward to "put her name in the hat." She just didn't have the patience to assemble it. I definitely selected her as the recipient. Another fun Buy Nothing moment was going to bed thinking I would ask the group for a treadmill and the next morning there was one posted and I put in a request to be considered and the neighbor not only selected me but delivered it the same day!!!" —Talia Botone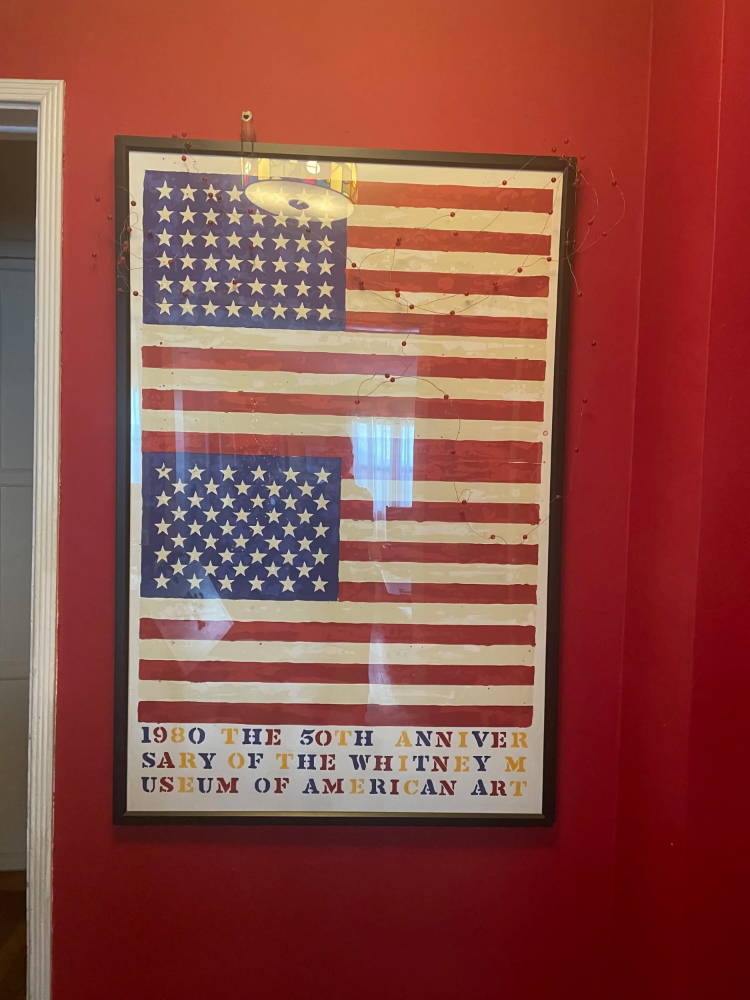 "A poster of the 1980 Whitney Museum 50th anniversary (which I attended on my first solo trip to NYC). I had it framed and it hangs in my entryway. I received it over 5 years ago." —Christine
"Right now I would say a small handheld massage thing, it has been used daily to help relieve pain. I have received exercise/rehab items too, they are used to help maintain strength in my legs. Thank you Buy Nothing Group, but seriously, I enjoy Giving more than anything...!" —Nan Chorpash
"A white, brand new storage ottoman—it is so elegant. It elevates my living room. Also, I have a large glass vase, it has sea glass in the bottom, and it is filled with air plants—all from BNMV gives. Each day when my eyes rest on it, I appreciate its simple beauty and it gives me a warm spark of joy because it is a gift from my community." —Sabrina Youmans
"One night, we just didn't have the energy to figure out dinner. Someone was offering a whole pizza they didn't need, and it helped our family out that night!" —Andrea
"Air plants. I tried keeping some alive and they always died. Somehow, the plants I received from one of our members have thrived! There is something special about this group." —Jeanne Kuntz

"I was fortunate to be chosen for a virtual healing session which was mind-blowing!" —Susan O'Neal

"Someone gave me an encouraging note along with a give and I still keep that note in my car to this very day. It was exactly what I needed to hear." —Eli

"A green jacket, because I really needed something lightweight but warm. It also matches my eyes and fits perfectly, so it seemed like a magic gift." —Eli

"Thirty years ago, my husband became successful enough in his law practice to afford a pricey interior designer who guided him toward some really beautiful furniture. When he retired, I kept as much as I could, repurposing it around the house. However, the beautiful green velvet loveseat just didn't fit in anywhere. Literally, there was no space for it. None of my 3 adult kids had space for it. My son-in-law recognized it from the movie, "The Usual Suspects". When someone from the Buy Nothing Mar Vista group said they wanted it, I was thrilled. It was the next best thing to keeping it in the family." —Jeanne Kuntz
Are you a part of a Buy Nothing Group? Tell us about it in the comments! Not a member yet? Get the app and/or join your local group. Learn more on the Buy Nothing Project website.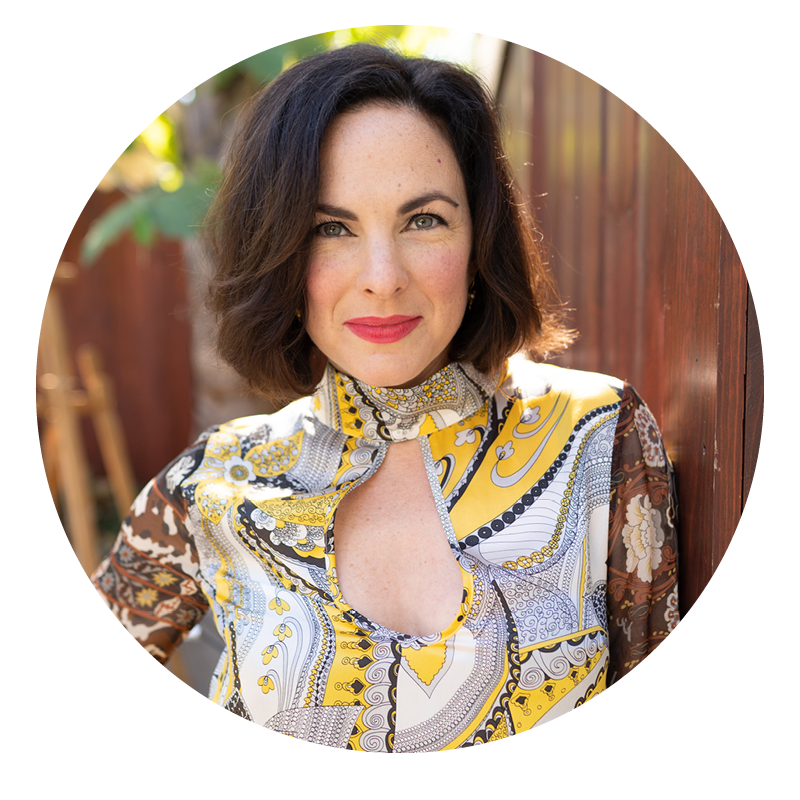 Nicole Robertson is a sustainable fashion advocate and the founder of Swap Society, an online clothing swap for women and kids that makes it easy and affordable for members to update their wardrobes sustainably. Nicole is also an accomplished musician and retired dancer who lives in Los Angeles with her husband and their two sons.