---
The Color Pink:
A Brief Fashion History
---
AUTHOR NICOLE ROBERTSON / CATEGORY FASHION HISTORY
"All colors have complications. But I do think that pink is one of the most controversial ones -- and one of the most divisive, too. It arouses very strong emotions, whether good or bad." —Valerie Steele
How does the color pink make you feel? And what does it make you think about? Perhaps it conjures thoughts of love and romance, fresh flowers, feelings of femininity, bubblegum, or even Barbie dolls. When we were curating Valentine's Day outfit ideas, pink clothes were an obvious choice. But it also got us thinking about how some people love to wear pink, while others wouldn't be caught dead wearing it. And then we started wondering about the history of pink and why it can be such a polarizing color.
When you think about pink, the word "controversial" may not be top of mind. However, Valerie Steele, the director and chief curator of The Museum at FIT and author of the book "Pink: The History of a Punk, Pretty, Powerful Color," said, "All colors have complications. But I do think that pink is one of the most controversial ones -- and one of the most divisive, too. It arouses very strong emotions, whether good or bad." (CNN Style: "Refined, rebellious and not just for girls: A cultural history of pink")
"The generally accepted rule is pink for the boys, and blue for the girls."
— Earnshaw's Infants' Department, June 1918
Sir William Hamilton (1730-1803); David Allan, Public domain, via Wikimedia Commons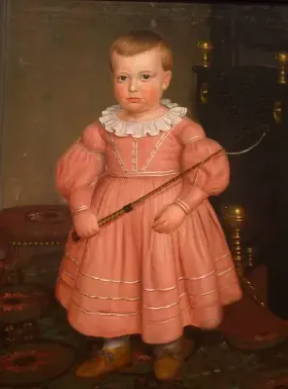 American School, Young Boy with Whip, c. 1840, Honolulu Museum of Art, via Wikimedia Commons
Vanity by Auguste Toulmouche. 1889 via Wikimedia Commons
Societal attitudes about the color pink have changed over the centuries. Pink was fashionable amongst both male and female European aristocrats in the 1700s. And for a long time, the color was considered more appropriate for little boys because it was a pale shade of red, a masculine military color. An article published in June 1918 by the trade publication Earnshaw's Infants' Department said, "The generally accepted rule is pink for the boys, and blue for the girls. The reason is that pink, being a more decided and stronger color, is more suitable for the boy, while blue, which is more delicate and dainty, is prettier for the girl." (Smithsonian Magazine: When Did Girls Start Wearing Pink?)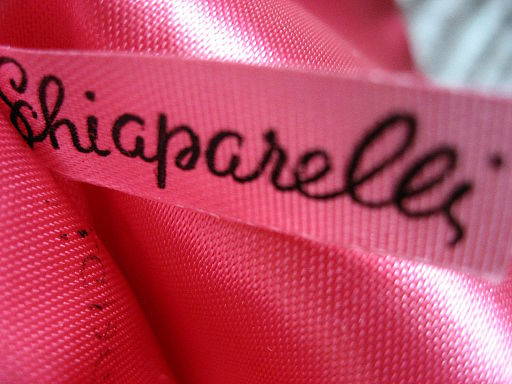 Elsa Schiaparelli lingerie tag in shocking pink signature color, via Wikimedia Commons
Gala dress used at the coronation of Queen Elisabeth and George VI in 1937, via Wikimedia Commons
Gracieuse. Geïllustreerde Aglaja, 1931, via Wikimedia Commons
Shades of pastel pink were en vogue for many decades until Italian surrealist fashion designer Elsa Schiaparelli made Shocking Pink her signature color in 1937. The ultra-bright magenta was a contrast to the muted tones that dominated fashion during World War II. "Using bright colors, especially pink, was a way for Schiaparelli to disconnect from the global conflict at hand and find a source of inspiration. The shock value of her designs challenged the preconceived ideas of color, especially pink, and set her apart as a designer." (CR Fashion Book, How Schiaparelli Made Pink Hot Before Millennials)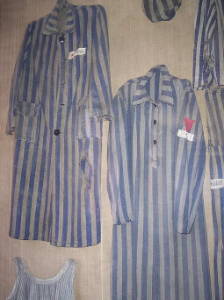 Exhibition Material Proofs of Crimes at Auschwitz I, via Wikimedia Commons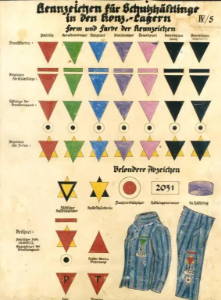 So when did people in the West start to think of pink as an exclusively feminine color? Architectural Historian Annmarie Adams traces the switch to Nazi Germany. "Just as the Nazis forced Jewish people to wear a yellow badge to identify themselves, they forced gay men to wear a pink badge. Ever since then, pink has been thought of as a nonmasculine color reserved for girls." (Fast Company: "The surprisingly dark history of the color pink" by Julie Irish)
"I gave to pink, the nerve of the red, a neon pink, an unreal pink." —Elsa Schiaparelli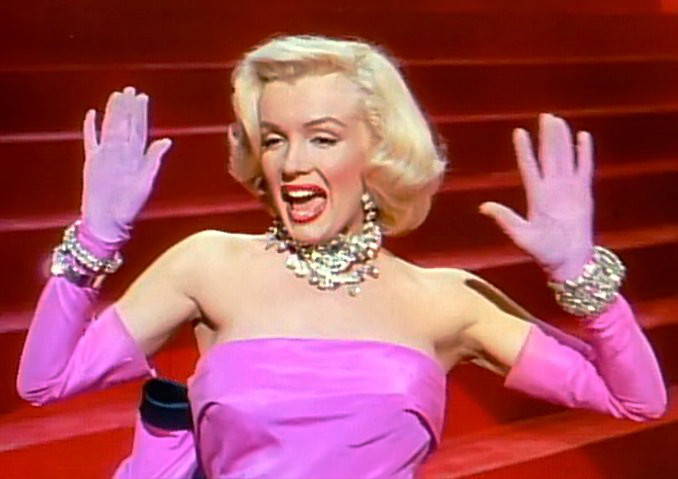 Marilyn Monroe in Gentlement Prefer Blondes, via Wikimedia Commons
Pink was an antidote to the post-war blues and became a popular fashion trend for women in the 1950s. From "Think Pink" in Funny Face to Marilyn Monroe in Gentlement Prefer Blondes to numerous magazine features and advertisements, pink fashion was all the rage.
"Think Pink" in Funny Face via YouTube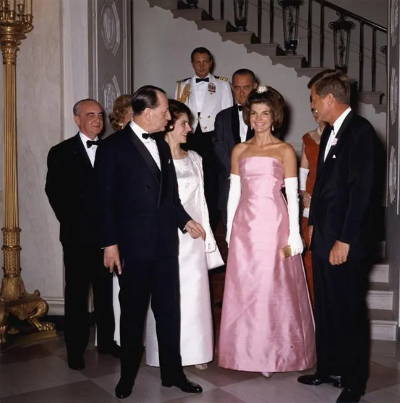 John F. Kennedy and Jacqueline Kennedy with Frecnh Culture Minister André Malraux, May 11, 1962, John F. Kennedy Presidential Library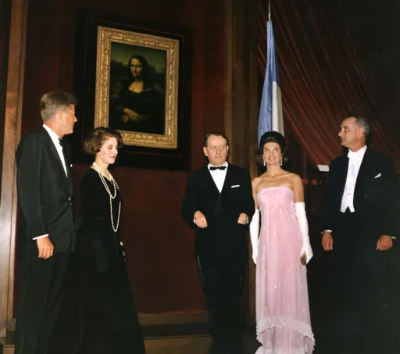 U.S. President John F. Kennedy, Madeleine Malraux, André Malraux, U.S. First Lady Jacqueline Kennedy, and U.S. Vice President Lyndon B. Johnson at an unveiling of the Mona Lisa at the National Gallery of Art, Washington, D.C., January 8, 1963, via the National Archives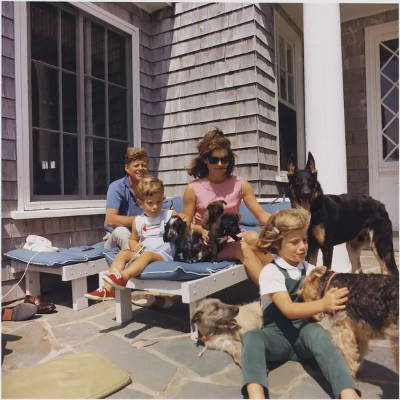 Photograph of Kennedy Family with Dogs During a Weekend at Hyannisport, 14 August 1963, John F. Kennedy Presidential Library
Arrival ceremonies for the President of Peru President Don Manuel Prado, President Kennedy, Mrs. Prado, Mrs. Kennedy, September 19, 1961, John F. Kennedy Presidential Library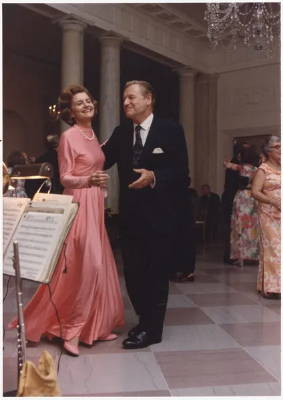 Photograph of Mrs. Betty Ford and Vice President-Designate Nelson A. Rockefeller Dancing in the Grand hall of the White House After a Dinner for the President's Cabinet and Senior Staff, August 28, 1974, Gerald R. Ford Presidential Library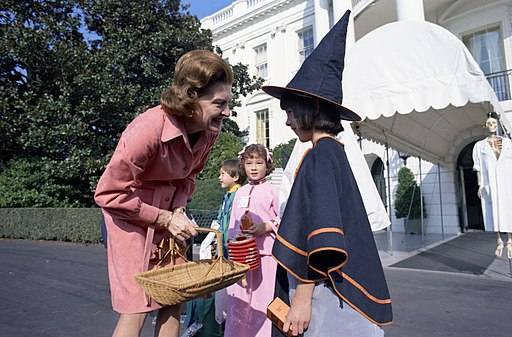 First Lady Betty Ford Greeting Children Participating in Trick or Treat for UNICEF outside the White House, October 31, 1974, Gerald R. Ford Presidential Library
In the 1960s, style icon and First Lady Jackie Kennedy often wore pink, for both casual chic attire and elegant formal occasions. First Lady Betty Ford was also a fan of pink and was regularly seen sporting the color throughout the 1970s.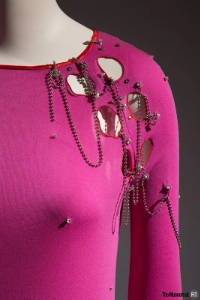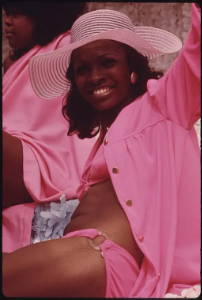 Woman in pink outfit at Bud Billiken Parade, Chicago, 1973, via Wikimedia Commons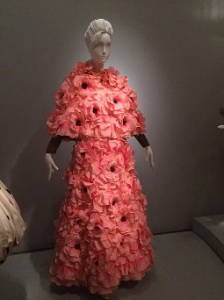 Arnold Scaasi, evening ensemble, spring/summer 1983, Brown and pink silk taffeta; pink silk organza, Brooklyn Museum Costume Collection at the Metropolitan Museum of Art by Aka Hige via Wikimedia Commons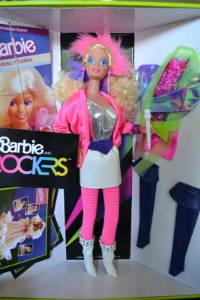 1908s Barbie Rockers wearing neon pink, via jamieanne on Flickr
The 70s Punk scene gave pink an edge, paving the way for a new iteration of the color just in time for the MTV generation: neon pink. Pop stars such as Madonna and Cyndi Lauper helped make neon pink one of the most popular fashion colors of the 1980s.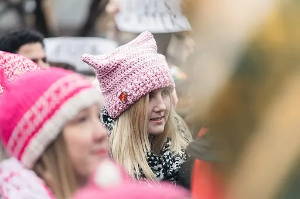 Women wearing "Pussy Hats" packed the Capitol Square during the Madison WI rally for the Women's March on January 21 2017, Amandalynn Jones via Wikimedia Commons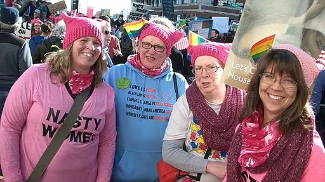 Thousands of women (and men) marched in St. Louis to demonstrate their beauty, strength and diversity - and to stand in solidarity with women marching all across the world that day, January 21, 2017, the day after the inauguration of Donald Trump. Many of us wore 'pussy hats' that we'd knitted to take back the power of the 'pussy,' a power so awesome that it has the new misogynistic president of the United States quaking. January 23, 2017, Mr. Wonderful via Wikimedia Commons.
Fast forward to modern day, and the meaning and the symbolism of the color pink is changing again. Women's rights activists Jayna Zweiman and Krista Suh founded the Pussyhat Project™ in 2016 as a way to "make both a bold and powerful visual statement of solidarity" for women attending Women's Marches around the world. In an interview with Clare Press for her book Rise & Resist: How to Change the World, Zweiman said, "The shocking bright color, in the middle of the winter, had this joyful power." Suh said they chose pink "because today it represents the opposite of any patriarchal ideal."
The color pink continues to evolve, and its prominence in fashion and in culture is constantly changing. "Pink is going through a generational shift," Steele said. "Society is increasingly moving away from the idea of it as a childish, over-sexualized hue. There's a shared recognition that pink can be pretty and powerful, feminine and feminist. Men are turning to it, too -- as (they did) in the 18th century. We're re-framing pink." (CNN Style: "Refined, rebellious and not just for girls: A cultural history of pink")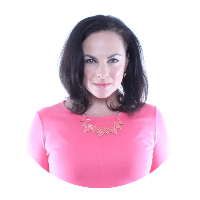 Nicole Robertson is a sustainable fashion advocate and the founder of Swap Society, an online clothing swap for women and kids that makes it easy and affordable for members to update their wardrobes sustainably. Nicole is also an accomplished musician and retired dancer who lives in Los Angeles with her husband and their two sons.